Yosemite Lodging in the Summer!
Yosemite's Scenic Wonders has over 120 properties to choose from, offering its guests 4 different locations that are each unique to the Park. Each location offers a great starting point for adventuring in and around Yosemite's High Sierras. You will experience the charm, space, privacy, and intimacy of your very own vacation home, without the confinements of a hotel room, at a fraction of what you would expect to pay for your family. So before you make your reservation elsewhere, please take a moment to verify their location, rates, and fees! You will realize that Scenic Wonders has locations and rates that just can't be beat! Check our availability and reserve online to become eligible for our great discounted rates and our Rate Guarantee!
Book Your Vacation Today
It's never too early to make your reservation! Year after year we have to turn away hundreds if not thousands of potential guests from early April through October because we become sold out due to our unique locations and accommodations. Don't be left out, we accept reservations one year in advance, so book now to lock in today's rates and those special dates for your next years Yosemite National Park vacation! Our Yosemite West homes and condominiums are our closest Vacation Rental accommodations to the incomparable Yosemite Valley, Badger Pass Ski Area, Glacier Point, Wawona Golf Course and Mariposa Grove, home to California's Giant Redwood Trees. If you're looking for lodging near Bass Lake, and to Mariposa Grove, view our Oakhurst/Bass Lake properties.
Yosemite Cabin Rentals & Condos
Since 1988, Scenic Wonders has been providing guests with unforgettable vacation lodging and has also been helping them create lifelong memories. Many have made Scenic Wonders a family tradition returning year after year. We offer home, cabin and condominium accommodations that are directly within the gates or on the borders of Yosemite National Park. Our vacation rentals are available year round. Whether you're hoping to soak up the sun during the summer months or enjoy snow-capped mountain views in the winter months, we are confident we have the right Yosemite lodging accommodations for you.
Reasons to Book With Us
✔ Best locations in and just outside the Park!
✔ Thousands of 5 Star reviews!
✔ No Resort Fees!
✔ Family Owned and Operated since 1988!
✔ TripAdvisor's Hall of fame!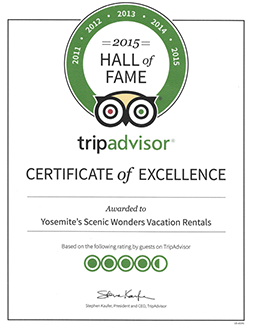 Remember, it is never too early to plan your vacation to Yosemite National Park. Keep in mind, Yosemite cabin rentals fill up quickly, which is why it is always a good idea to make your reservations in advance. Simply call Yosemite's Scenic Wonders at 1-888-YOSEMITE (1-888-967-3648) to reserve your condominium, home or cabin. For added convenience, you can also make your reservation online.
Yosemite Lodging & Reservations
If you're thinking about vacationing in Yosemite; you want to find a vacation lodge located as close to Yosemite Valley as possible, the heart of Yosemite National Park. At Yosemite's Scenic Wonders, our vacation rentals are centrally located, which means that most of our properties are just minutes away from all the marvels and glorious sites of Yosemite. Why spend 1 – 2 hours commuting in and out of the park each day when you can enjoy the benefits of lodging inside the park? Call one of our reservation specialists today or make your reservation online to get the best in Yosemite Lodging! By choosing Yosemite's Scenic Wonders, you will wake up refreshed and will experience some of the worlds most breath taking views that any would be envious of. After all, isn't that what Yosemite National Park is all about, why be outside the Park when you can find affordable lodging inside the Park? Our properties are some of the closest vacation rentals to the incomparable Yosemite Valley and Glacier Point. Our rentals is also close to popular tourist destinations like Half Dome, Yosemite Falls, El Capitan, Wawona Golf Course, Badger Pass Ski Area and Mariposa Grove — Home to California's Giant Redwood Trees. So make the right choice, find your Yosemite Lodging with Yosemite's Scenic Wonders today!
---
Isaac was a TERRIFIC host, mainly because he is extremely responsive. The house worked very well for our group. It did get a bit hot toward the end of the week (it was a heatwave) which made the upstairs room a bit hot and stuffy for heating, but this is not a compliant as we know that it was unusual weather. Thanks for everything
Had a great time. Good location.
If I could give more stars I would! The cabin was spotless and had everything you could possibly need. It was so nice to come back to a quiet cool place after a long day at the park.
Geraldyn R.
June 12, 2021
The place is great! Clean, spacious, has a lot of large rooms. It is located close to the scenice areas. The house has a deck with beautiful view. It has bbq grill and outside patio dining area. It has lots of cooking equipments, extra pillows and beddings. It was a great experience and we hope to come back again in Yosemite with Scenic Wonders!
The home was more than we expected. Large enough for our needs, well equipped, and comfortable. The ping pong and foosball was a big hit with the tween. Thanks.
It was perfect. Great location. Needed a baking sheet.
Three generations of my family stayed at Hikers Hideaway for four nights. The five of us were very pleased with the accommodations, including it's location, comfort, cleanliness, kitchen supplies, and decorations. I highly recommend this house to other families who visit Yosemite National Park! I would suggest, however, that the owners add some more comfortable chairs to the living room.
Everything worked as expected. No hassles.
Google Customer Reviews:
---