Yosemite Lodging in the Summer!
Yosemite's Scenic Wonders has over 120 properties to choose from, offering its guests 4 different locations that are each unique to the Park. Each location offers a great starting point for adventuring in and around Yosemite's High Sierras. You will experience the charm, space, privacy, and intimacy of your very own vacation home, without the confinements of a hotel room, at a fraction of what you would expect to pay for your family. So before you make your reservation elsewhere, please take a moment to verify their location, rates, and fees! You will realize that Scenic Wonders has locations and rates that just can't be beat! Check our availability and reserve online to become eligible for our great discounted rates and our Rate Guarantee!
Book Your Vacation Today
It's never too early to make your reservation! Year after year we have to turn away hundreds if not thousands of potential guests from early April through October because we become sold out due to our unique locations and accommodations. Don't be left out, we accept reservations one year in advance, so book now to lock in today's rates and those special dates for your next years Yosemite National Park vacation! Our Yosemite West homes and condominiums are our closest Vacation Rental accommodations to the incomparable Yosemite Valley, Badger Pass Ski Area, Glacier Point, Wawona Golf Course and Mariposa Grove, home to California's Giant Redwood Trees. If you're looking for lodging near Bass Lake, and to Mariposa Grove, view our Oakhurst/Bass Lake properties.
Yosemite Cabin Rentals & Condos
Since 1988, Scenic Wonders has been providing guests with unforgettable vacation lodging and has also been helping them create lifelong memories. Many have made Scenic Wonders a family tradition returning year after year. We offer home, cabin and condominium accommodations that are directly within the gates or on the borders of Yosemite National Park. Our vacation rentals are available year round. Whether you're hoping to soak up the sun during the summer months or enjoy snow-capped mountain views in the winter months, we are confident we have the right Yosemite lodging accommodations for you.
Reasons to Book With Us
✔ Best locations in and just outside the Park!
✔ Thousands of 5 Star reviews!
✔ No Resort Fees!
✔ Family Owned and Operated since 1988!
✔ TripAdvisor's Hall of fame!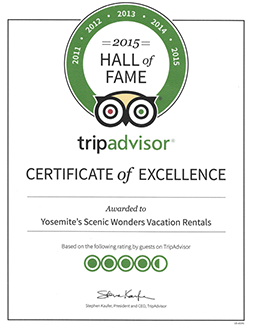 Remember, it is never too early to plan your vacation to Yosemite National Park. Keep in mind, Yosemite cabin rentals fill up quickly, which is why it is always a good idea to make your reservations in advance. Simply call Yosemite's Scenic Wonders at 1-888-YOSEMITE (1-888-967-3648) to reserve your condominium, home or cabin. For added convenience, you can also make your reservation online.
Yosemite Lodging & Reservations
If you're thinking about vacationing in Yosemite; you want to find a vacation lodge located as close to Yosemite Valley as possible, the heart of Yosemite National Park. At Yosemite's Scenic Wonders, our vacation rentals are centrally located, which means that most of our properties are just minutes away from all the marvels and glorious sites of Yosemite. Why spend 1 – 2 hours commuting in and out of the park each day when you can enjoy the benefits of lodging inside the park? Call one of our reservation specialists today or make your reservation online to get the best in Yosemite Lodging! By choosing Yosemite's Scenic Wonders, you will wake up refreshed and will experience some of the worlds most breath taking views that any would be envious of. After all, isn't that what Yosemite National Park is all about, why be outside the Park when you can find affordable lodging inside the Park? Our properties are some of the closest vacation rentals to the incomparable Yosemite Valley and Glacier Point. Our rentals is also close to popular tourist destinations like Half Dome, Yosemite Falls, El Capitan, Wawona Golf Course, Badger Pass Ski Area and Mariposa Grove — Home to California's Giant Redwood Trees. So make the right choice, find your Yosemite Lodging with Yosemite's Scenic Wonders today!
---
Accurate description online. Clean, comfortable, and well equipped property.
Claudia &.
January 12, 2022
Everything was great! The location was perfect and the cabin was cozy
We really enjoy the comforts, convenience, and quiet atmosphere of the condos offered by Yosemite Scenic Wonders. We had a wonderful time! Thanks! (I booked two condos for our visit. Everyone was very pleased.)
We really enjoy the comforts, convenience, and quiet atmosphere of the condos offered by Yosemite Scenic Wonders. We had a wonderful time! Thanks!
Its perfect, the whole family loved it
Marilynn H.
January 10, 2022
It was a perfect stay for our family! Such a big and clean home, so glad we found this place! We will definitely be back! ????
Valeria P.
January 9, 2022
Since we arrived at the house, we feel very good, the atmosphere is cozy, the air is incredible, the landscapes. The house is very comfortable and with everything you need for a pleasant stay, my daughters liked them a lot, we wanted that place because of the snow, but unfortunately the weather played us badly, however it did not hinder that our stay was pleasant and nice.
Small living room but large bedrooms
Jesse, R.
January 9, 2022
Room was clean and well stocked.
Sergio H.
January 9, 2022
Great place to stay. Loved the amount of space, thanks for all the commodities.
Google Customer Reviews:
---