Hiking is the best way to appreciate the beauty of this natural wonderland
Probably the best way to experience the grandeur of Yosemite National Park is by hiking or backpacking through it's fields, forests, and paths. Every turn displays different natural wonders; each path brings you closer to the environment. With more than 800 miles of trails to explore, Yosemite National Park offers something for everyone from the beginning stroller to the expert trekker. Hiking in Yosemite is what you make it—whether it's a 14-mile hike up 4,800 feet on the Half Dome trail, or a relaxing jaunt along the Cook's Meadow Loop, Yosemite hiking is a journey you'll not soon forget.
YExplore Yosemite Adventures | Custom Guided Adventure Hikes, Nature Walks, and Photography Workshops in Yosemite National Park. Small group sizes guarantee a personalized experience with professional local guides.

Day hikes
Day hikes range from flat walks to robust climbs, with distances from the valley of under one mile (to Bridalveil Fall, easy) up to 17 miles (to Half-Dome, very strenuous). Visitors will see waterfalls, especially strong in the spring, glacial ravines, panoramic views, forests and meadows.
You can also hike above the valley floor south in Wawona, where you will see covered bridges, open pine forest, and the Giant Sequoias Grove. Shuttle bus service is available for tired trekkers to return to Wawona from the Grove. From the nortern part of the park, you can visit Soda Springs, Cathedral Lakes and follow the John Muir Trail. Longer hikes lead to Tioga Pass and the High Sierra Camp.
Best Hiking Trails in Yosemite
1) 4-Mile Trail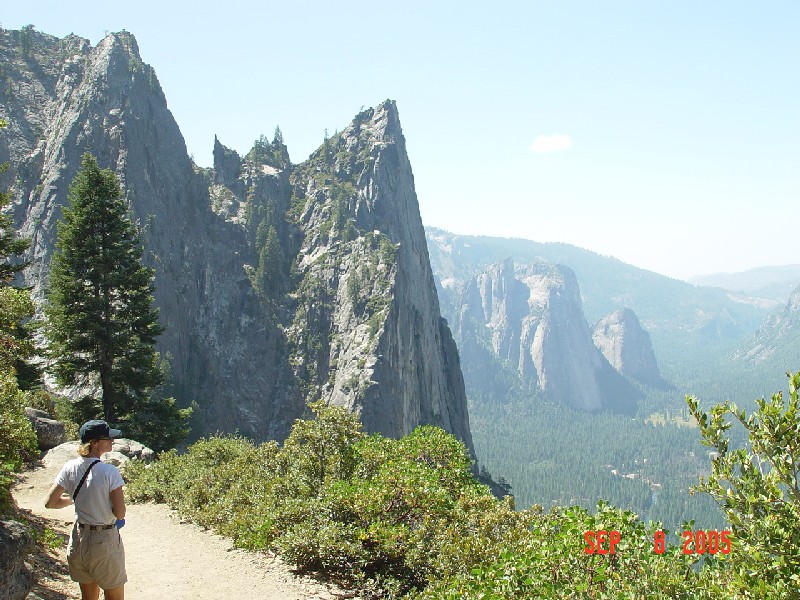 Connecting Yosemite Valley and Glacier Point, 4-Mile climbs from the valley floor to the south rim at Glacier Point. This Yosemite hiking trip provides a postcard moment at every turn. If you are looking to capture a breath-taking view of Yosemite Falls, this is the trail you will want to be on. While completing this 4-mile hike, you will also get to take in sights like Yosemite Valley. If you make it to the end, you may even be able to buy yourself an ice cream at the Glacier Point cafeteria, which also sells other snacks and convenience items.
2) The Mist Trail
Hiking in Yosemite isn't complete without getting some refreshment from waterfall spray, and this trail gives you two opportunities with access to Nevada and Vernal Falls. If you're in the mood for a short jaunt, you should hike round trip to Vernal Falls. This will only set you back 3 miles. However, if you're a hiking enthusiast, you should definitely try hiking to Nevada Falls, which is a 7 mile roundtrip trail. Aside from offering a few routes, the Mist Trail is regarded as Yosemite's signature trail because it offers so many majestic views.
3) Panorama Trail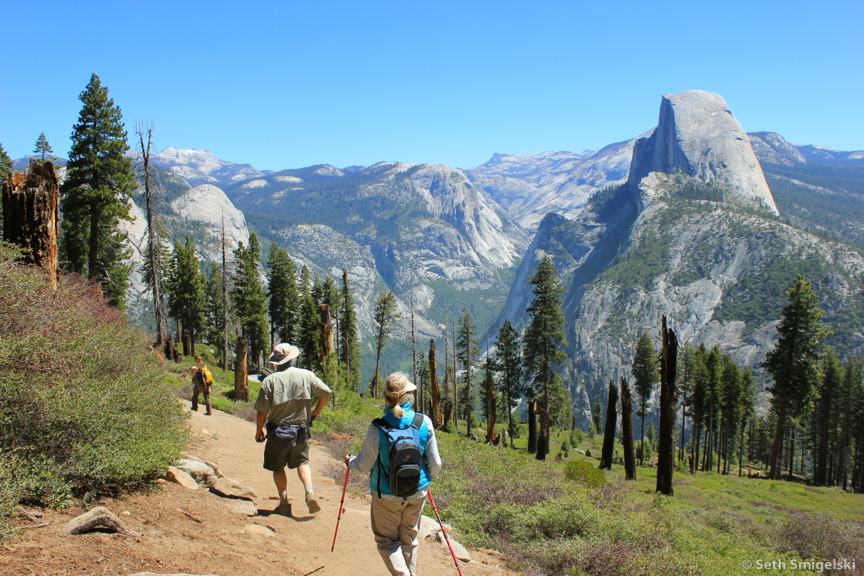 The name of this Yosemite National Park hiking trail is no coincidence! Panorama Point is unmarked (about 0.5 mile from Illilouete Creek), but this off-shoot has some of the best views of the valley. It also happens to be one of the longer trails Yosemite has to offer, measuring in at 8.5 miles one way. If you're looking to hike this trail, you better reserve some time as it takes 5 – 7 hours to complete. However, the time is well worth it as you will be able to snag a great view of Glacier Point and also Panorama Point.
Yosemite Trails Are Safe!
Feeling overwhelmed or uncertain? Don't be! Yosemite National Park's hiking trails are well documented, safely marked and in most cases, highly populated. Yosemite hiking trails give you the opportunity to see the park's amazing scenery on your terms and at your pace. The hunt for beauty is an easy one while hiking in Yosemite, but there are a few standouts.
Are you hoping to do some serious hiking while you vacation in Yosemite? If so, you should rent a home, cabin or condominium from Yosemite's Scenic Wonders. When you lodge with us, you will be within the gates of the park and close to popular trails like the Mist Trail, 4-Mile Trail and Panorama Trail
Hiking Tips:
Be careful; trails are not patrolled or maintained outside the valley. You are responsible for your safety.
Stay on trails. It's safer and less damaging to the environment.
Bring lots of water. If you acquire water from park springs, rivers, etc., chemically treat or boil it.
Some trails follow alongside stream passages, so you may get wet, especially on falls hikes.
Bring sturdy shoes, preferably with a heavy rubber "treaded" soles for traction. Lightweight athletic shoes and sandals may cause pain and blisters from a lack of support on uneven ground. You can dayhike with light hiking boots.
Weather is sunny and warm during peak visiting months. It's not a bad idea to bring a sun hat to minimize exposure and overheating

View a map of the Park