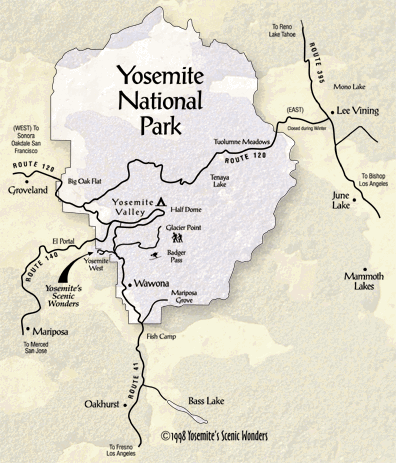 Contact Information:

7403 Yosemite Park Way
Yosemite National Park, CA 95389
Open seven days a week
Call: 1-888-YOSEMITE
Call: 1-888-967-3648
E-mail: info@scenicwonders.com
Download Print Flyers & More Maps!

Our Location Map

Homes Flyer

Condos Flyer

Spring Flyer

Fall Flyer

Winter Flyer
Located in a residential community called Yosemite West, you can see that we have a location that really can't be beat! Our homes and condominiums are the closest accommodations to Yosemite Valley, Badger Pass Ski Area, Glacier Point, Wawona Golf Course and Mariposa Grove, home to California's Giant Redwood Trees. Centrally located you're just minutes to all the main attractions of Yosemite National Park! Avoid the crowds in Yosemite valley, and forget that 1-2 hour commute in and out of the park every day during your visit. By staying with Scenic Wonders, you will wake up in the morning refreshed, and be at some of the world's most breathtaking scenery in just minutes!
You may reach us at the addresses and telephone numbers below. Note that Guest Services and Housekeeping have local telephone numbers (not toll-free) to the Yosemite area.
Reservations
Reservations Fax
888-YOSEMITE (888-967-3648)
Yosemite National Park CA 95389
Yosemite's Scenic Wonders
Homes Office
Yosemite's Scenic Wonders
Condominiums Office
7403 Yosemite Parkway - Yosemite West
Yosemite National Park CA 95389
7540 Henness Circle – Yosemite West
Yosemite National Park CA 95389