Best Yosemite Hiking Routes
If you're looking for challenging climbs and incredible views on your next trip to Yosemite National Park, there are two Yosemite hikes that simply can't be missed – the Half Dome day hike and the Yosemite Falls hike.
Climbing Half Dome
Mount Half Dome has one of the best
hikes in Yosemite
, but if you're physically fit and up for an adventure, few experiences in life are as rewarding as the climb to the summit. The Half Dome hike is about 17 miles long and has an elevation gain of 4,800 feet. Most of the hike is a challenging walk, but the last 400 feet are a real climb. This final stretch to the summit has two cables that allow hikers to climb to the summit without rock climbing equipment. The view from this cabled section of the hike is unparalleled, and the climb itself, while exceptionally challenging, is also extremely fun. Because so many people wish to climb Half Dome every day, Yosemite National Park has instituted a permitting system that only allows 400 climbers to hike Half Dome daily. These permits can be quite tough to get a hold of, so make sure you snap yours up as soon as possible. Half Dome permits are available on the Yosemite National Park website up to three months in advance of your chosen Yosemite hiking day. While Half Dome is an unforgettable experience, it should not be attempted by small children or people who are not physically prepared for the demands of a challenging hike. It is recommended that people who wish to climb Half Dome do some training in advance and make sure they're prepared for the daunting climb.
Yosemite Falls Hike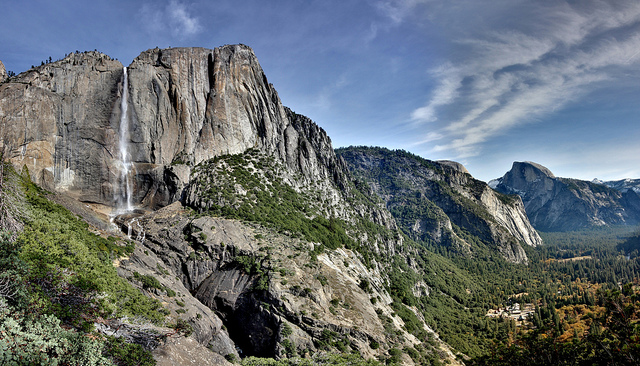 Another great Yosemite hiking opportunity is the Yosemite Falls hike. This is one of the most popular Yosemite hikes because it is challenging but less than half the length of Half Dome and offers spectacular views of Yosemite Valley. A 7.6 mile round-trip hike from the Lower Yosemite Falls trailhead, the Yosemite Falls hike has an elevation gain of about 2,600 feet and takes between 6 to 10 hours to complete. The Yosemite Falls hike is known for being quite the workout and also for providing gorgeous views of Yosemite Valley, Half Dome, Yosemite Falls, and a number of other sites within the park. From the top of this hike you'll be able to see the entirety of Yosemite Falls and have a chance to walk through the spray of Upper Yosemite Falls. The view you're provided with at the top of this hike also allows you to get a photo of Yosemite Falls and Half Dome in the same frame. The best time to do this hike is during the late spring or summer when the waterfalls are gushing. Photo credit:
Joe Parks
---
---
Share This Post!
---