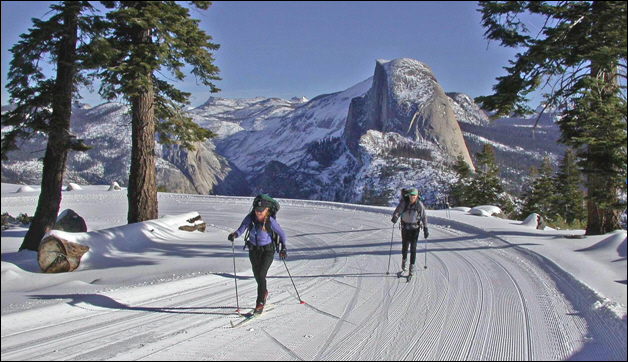 Badger Pass Is Now Open
Friends, I greet you from Yosemite. BADGER PASS is open.
Winter is for enjoying the SNOW!!! Looking for WINTER RECREATION? Looking for RE-CREATION? BADGER PASS SKI RESORT is uniquely situated within Yosemite National Park. It is the oldest ski resort in California and one of the oldest in the country. The Winter Olympics of long ago were even planned to be held there; and the Rail Creek Run was established for the downhill run. The decision was eventually made to move the Olympics to Squaw. Is an excellent ski area for FAMILY and beginners. Go to the A-Frame for the FREE Ranger Snowshoe Walk, "Explore the forest in winter." Ranger Dick has been leading this walk for a couple of decades now and is the Glacier Point Ranger in the summer. He's great and the walk is FUN!!!
Many us live in Yosemite West in order be just minutes away from skiing or snowboarding the SLOPES, skating on the Glacier Point Road, striding or snowshoeing the the beautiful trails....the beautiful winter wilderness!!!...the winter wildlife and ....winter TRACKING. SCENIC WONDERS offers the closest lodging to Badger Pass!!! Get a good night sleep so as to enjoy your winter excursions. The homes and condominiums provide COMFORT and will add to your memorable vacation experience.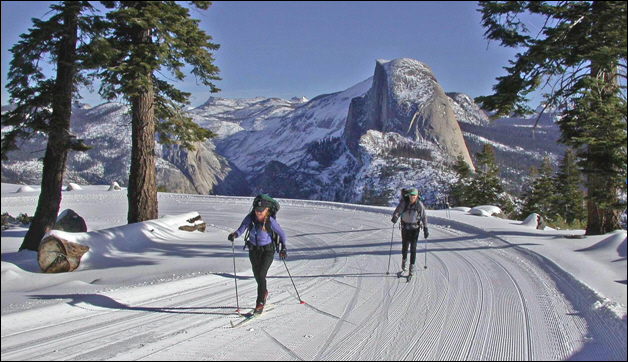 Winter at BADGER is....
FUN.....FUN.....FUN FRESH air, terrific VIEWS.... Untracked snow is a JOY....as you leave your own tracks in the fresh POWDER after a snow fall.... ....a good time with friends and family. BADGER PASS Snow Phone: 209-372-0200 (option 5). Updated by Sean daily at 3:30pm. The recording is great and Sean's voice is perfect. NPS A-FRAME: 209-372-0409
DOWNHILL
CROSS-COUNTRY Nordic,Skating,Telemarking,Snowshoes
RENTAL SHOPS
SKI LESSONS
SNOWSHOEING with Park Ranger-snowshoes provided. 10:30am A-Frame
DAY LODGE with Food Services, sun deck and Snow Flake Room.
SPORT SHOP
TUBING Sessions
Badger Pass provides well marked trails for backcountry skiing and groomed set tracks along the Glacier Point Road for diagonal stride and skating. MAPS available at the trailhead. The Yosemite Mountaineering School was one of the first Nordic schools in California and is still one of the most popular. Weather and Road conditions: 209-372-0200. Carry CHAINS!!! Bring water, sunglasses, sunscreen, and a hat. I thoroughly enjoyed my time patrolling the Badger Nordic Ski trails for NPS, teaching Nordic skiing at Badger, participating in many Badger Nordic ski races, and skiing a trans-Sierra tour from Lee Vining to Yosemite Valley with the Yosemite Mountaineering School. It is always enjoyable to Nordic ski along the Glacier Point Road to the Clark Range View or through the wilderness to Dewey Point to make tracks and new memories. Another terrific day in Yosemite
---
---
Share This Post!
---