One of the prime features of our Scenic Wonders website is the interactive map of our Yosemite rentals–an excellent way to orient yourself and explore your lodging possibilities for a one-of-a-kind vacation.
Mapping Our Yosemite Rentals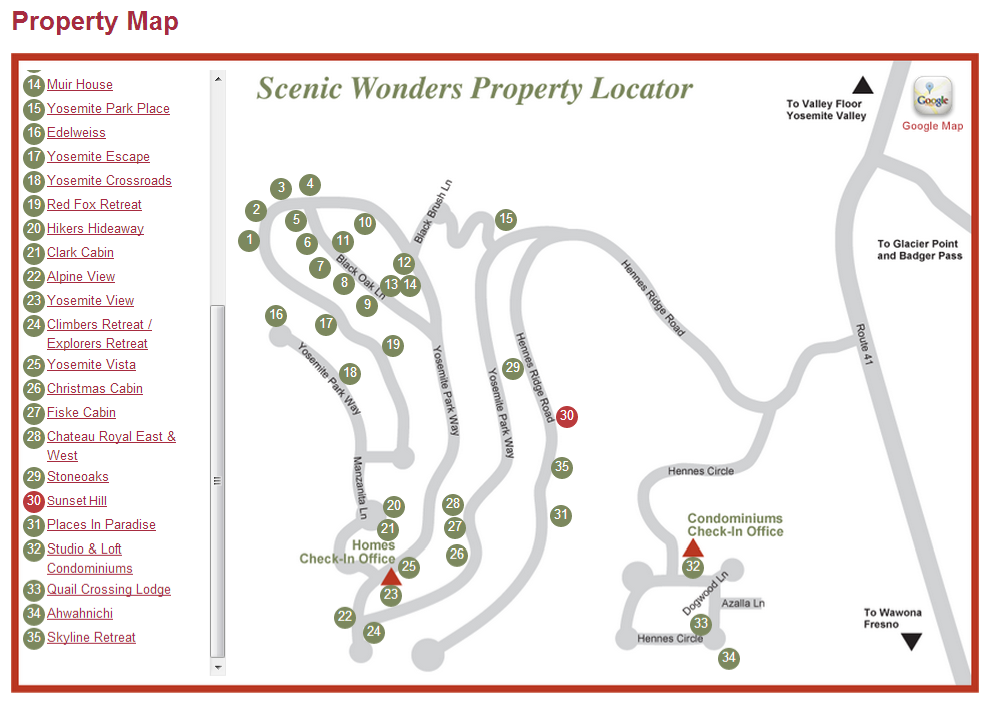 The Scenic Wonders Property Locator lays out our forested neighborhood in Yosemite West, close by Yosemite Valley and Glacier Point Road. You can scroll your cursor over the property list on the left, which will highlight the corresponding numbered circles representing the locations of our cabins and pull up pictures and short descriptions, as well as links to more fleshed-out profiles. Or simply float over the numbered circles themselves to access the details–it's that easy!
You can also click on the "Google Map" icon in the top right of the property locator, which will open a new page showing you the setting of our Yosemite rentals in–you guessed it–Google Maps. That's another fine way to set our Yosemite West community in context: You can enjoy a satellite photo of the area and also take a "Street View" tour of Hennes Ridge Road, Yosemite Park Way, Black Oak Lane, and the other beautiful woodsy roads accessing our cabins.
We're proud to offer our interactive map; we think it's a much more useful way to search out the perfect rental than the kind of bland lists you might see on other sites. Getting a sense for the layout of our many cabins–from Bears' Den to Red Fox Retreat–can help you narrow down your top choices.
Stop on by the Scenic Wonders Property Locator today and take your vacation-planning to the next level! Our beautiful Yosemite rentals await!
Make Your Yosemite Reservations Today
If you're planning on making Yosemite reservations, consider making your reservations with Yosemite's Scenic Wonders. We offer Yosemite rentals within the gates of the park. With one of our cozy cabins, condominiums, or homes, your Yosemite accommodations will be just minutes from your favorite Yosemite activities.
Give us a call at 1-888-YOSEMITE ( 1-888-967-3648) to learn about our rentals and to make your Yosemite reservations today.
Yosemite National Park Blog
Scenic Wonders' Yosemite blog provides the latest news related to Yosemite National Park. By reading our blog, you'll stay up to date on activities, accommodations, and more.