One of the rewards for regularly checking in with the Yosemite's Scenic Wonders Facebook page–aside from all the astoundingly beautiful pictures of Yosemite scenery–is the chance to participate in the contests we occasionally throw. Now's just such an opportunity: For another round of our Ultimate Yosemite Giveaway, we're giving away a FREE two-night stay in one of our three-bedroom mountain cabins–and all you have to do is "Like" us on Facebook! And enter here.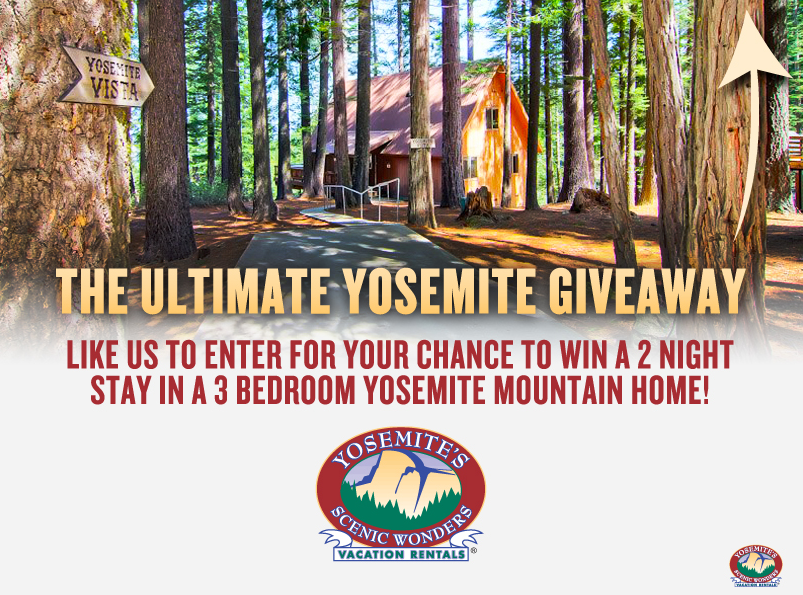 A contest couldn't be easier to enter, especially one with such a fantastic prize. A simple click of the mouse–which adds you to our big, devoted Facebook family–and you're in the running for free Yosemite lodging and a magical getaway.
Remember to enter by May 31. We'll draw the winner shortly after. If you're the lucky one, you'll be able to use your free stay between November 1, 2013 and March 31, 2014–which means a free immersion in one of Yosemite's most stirring and transformative seasons.
Scenic Wonders Yosemite Lodging
Our Scenic Wonders rentals enjoy the spectacularly convenient setting of Yosemite West, which lies within the boundaries of Yosemite National Park and not far from Yosemite Valley, Glacier Point Road, and other top attractions.
Our cabins serve as premier Yosemite lodging: Stocked with amenities and dominated by serene, woodsy vibes, they're ideal for everyone from solo travelers to families.
So what are you waiting for? Surf your way over to the Scenic Wonders Facebook page and "Like" us by May 31 via the contest app: It's that simple to be entered into our fabulous Ultimate Yosemite Giveaway for a free Yosemite stay. While you're there, peruse what else we've posted to our page and join our amazing community–united by a common love of this singularly stunning mountain kingdom.
Make Your Yosemite Reservations Today
If you're planning on making Yosemite reservations this winter, consider your Yosemite lodging choices with Scenic Wonders. We offer Yosemite reservations within the gates of the park. With one of our cozy cabins, condominiums, or homes, your Yosemite accommodations will be just minutes from your favorite Yosemite activities.
Give us a call at 1-888-YOSEMITE ( 1-888-967-3648) to learn about our rentals and to make your Yosemite reservations today.
Yosemite National Park Blog
Scenic Wonders' Yosemite blog provides the latest news related to Yosemite National Park. By reading our blog, you'll stay up to date on activities, accommodations, and more.